Chronicles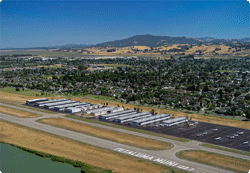 The PBY Catalina today continues her service to mankind without glory or honors. She has flown into war, saved lives, conducted spy missions, been a research and exploration platform, and protected our forests. At home on the land, sea and in the air, she has served well and is loved by the people who knew her best. But what do we really know about her history and what can we preserve?

Her birth is registered at the US Patent Office as July 31, 1934 and to this day flies with some militaries and private operators - at the age of 78 years.
She never received the glory surrounding the B-17, B-24, and various fighters, but she was at every battle from the Equator to the ice caps around the world. She was slow and clumsy and an easy target in daylight, but at night these dubious qualities became deadly assets. Many an enemy ship fell victim to the "Black Cat".

But, her greatest pride lies with her rescue record whether during war or peace. While flying with the Navy, Army, and Coast Guard, the PBY Catalina has saved thousands of lives - a record unmatched by any aircraft in history.
It is the mission of the PBY Catalina Foundation to collect and preserve the stories from flight logs, diaries, squadron reports, and verbal remembrances from the ones who were there, their children, and grandchildren.
Remember: "History that is not remembered is history that never happened".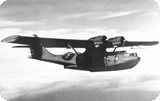 #64017 moved off the production line at Consolidated Aircraft Corporation's New Orleans, Louisiana facility sometime in July, 1945. It was delivered to the US Navy at Terminal Island, California, sent to VPB-100 in Hawaii and then on to the Philippines as part of VPB-71. By January, 1946, the aircraft was back in Hawaii as part of Fleet Air Wing 2 and then based at NAS Alameda, California. Continued transfers took it to the Naval Aircraft Factory in Philadelphia; Naval Air Reserve, Atlanta, Georgia; Naval Air Reserve, Squantum, Massachusetts; NAS San Diego, California; Boeing Plant in Seattle for overhaul; Naval Air Reserve, NAS Niagara Falls, New York; and finally storage and eventual sale at Litchfield Park, Arizona.
Its civilian history is a little unclear but we have found the following: It was first registered in the US as N2846D and N5555H. It was also used during the 60's and 70's as a firebomber in France for the Protective Civile as the "Green Pelican" or F-ZBAV. The PBY then had a period of open storage at St. Jean, Quebec, Canada. She languished in rapidly fading Protection Civile colors with Canadian registration C-FHNH on the tail. Her engines were removed and her nose was weighted down with concrete blocks. Photos taken at the time show that the blisters were still in place although they were subsequently removed. She was later sold to Avalon Aviation and C-FHNH began work in Norway as a firebomber based at Fornebu. Subsequently stored at East Midlands and Exeter airports in 1985, she was sold to Aces High and has been registered on both British and American registers as G-BFPY and N212DM respectively.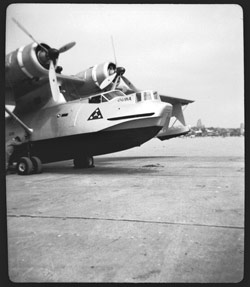 Hard to believe that the first Catalina of a country that produced Catalinas herself, was a second hand Catalina! It all started in 1937, when Dr. Richard Archbold purchased Consolidated's first commercial PBY. It was a modified PBY-1, licensed as a model 28-1. Guba, as Archbold called his aircraft, was intended to be used as support for a planned expedition to New Guinea. These plans were suddenly altered when the Soviet government asked him to to aid in a mission of mercy and sell Guba to them for $230,000 (Russian aviation magazine--Krylia Rodiny no. 9 & 10, 1992 ). Archbold agreed and the Soviets used Guba to search for Sigismund Levanevsky and his crew missing from a flight across the North Pole from the Soviet Union to Fairbanks. The Canadian researcher Sir Hubert Wilkins flew Guba to Coppermine in Canada's Northwest Territory on the 23rd of August 1937 and made five search-trips during August and September. In the end of 1937, Guba, now registered L-2, was flown to New York, dismantled, and shipped by steamer to the Soviet Union. From January to March 1938, Wilkins flew four more flights, two of which were during the polar night. Sadly, Levanevsky and his crew were never found.
Wilkins later wrote a letter to Reuben Fleet, saying he had flown 19,000 miles " . . . . under the most adverse weather conditions, flying over rough and uncharted terrain, and for the most part heavily loaded with fuel, supplies, and equipment. It is my privilege to congratulate you and your associates and all those who had part in the fabrication of this airplane, and in no uncertain terms. Without this magnificent airplane, we could not have attempted our difficult task." [Roscoe Creed; PBY, The Catalina Flying Boat]
In the summer of 1938, L-2 was delivered to Moscow. The letters URSS (French short for USSR) were changed to CCCP, the registration L-2 removed, and the aircraft equipped with military gear. This military gear consisted of 4 'SHKAS' machine guns (7.62 mm) in the bow turret, tunnel gun, and where the two waist gunner's hatches should be in small closed blisters, there were 6 bomb racks for several types of bombs, and other equipment. All these changes were standard on the GST, except for the blisters. The L-2 was likely the first Catalina with (some sort of) blisters!
During her operational life, L-2 took part in the search for survivors of convoy PQ-17. After the search, while she lay at anchor at Moller Bay, Novaya Zemblya, L-2 was destroyed by shellfire of a German submarine on the 25th of July, 1942.