How Did They Get There -- A True Story
Chapter One
This December 26, 2013...
Seventy-two years ago today, 1st Lt. Earl J. Cooper and his B-17C (40-2054) crew prepared to depart Hickam Field, Hawaii, to begin a patrol looking for the Japanese invasion fleet which was expected after the December 7th attack. 2nd Lt. Ebrenz and crew chief Tech Sgt. Broyles finished their pre-flight check while the rest of the crew went about their business. 1st Lt. Joaquin Castro, the hitchhiker, worked with Ebrenz on pre-flight. Corp. Mac L. Lucas, radioman, arrived with radio frequencies, codes and weather report. All accounted for, pre-flight complete, dawn breaking, the B-17C raced down the runway. It was time to keep all eyes on the horizon.
Everyone went about their jobs. Castro spent some time as co-pilot and the crew rotated as lookouts. 2nd Lt. John A. Crockett, navigator, began his routine of periodic position checks. The weather was not the best, but it was OK considering what was projected for the coming days. Everything was routine.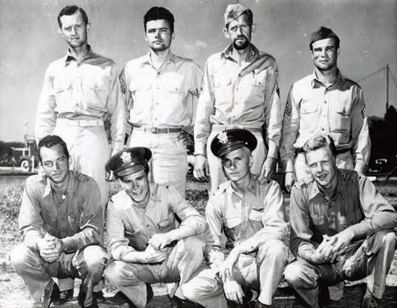 Just after their inbound turn, about midday, Crockett discovered that there were some inconsistencies with their "known" position and his estimated position. This pattern was repeating itself each time he took a sextant sighting. After reporting this to Cooper, he began a step by step check of all contributing factors and found the problem was the aircraft compass. It had not been recalibrated after the 50 caliber machine gun had been installed nearby; therefore the compass was not reliable. Cooper responded by asking Lucas for a radio and heading check with Pearl Harbor. The heading Lucas received was mixed up with another aircraft thus heading the B-17C out to sea not to land. Crockett expressed his opposition to the new heading and Cooper was soon informed by Broyles that if Crocket was correct, they would not make it back; they would run out of fuel.
With no land in sight, it was getting dark and they were low on fuel. Cooper gave the order to prepare to ditch. Preparations were made and Cooper began a controlled ditching in the open sea about midnight. With the nose up, the aircraft hit the water and all hell broke loose. The tail section up to just aft of the wings broke off and drifted away. Water came rushing into the compartments and everyone got out as best they could.
In the water, they found only two 2-man rafts had deployed and were upside down. The other expected rafts did not launch when the aircraft hit the water. While clinging to the rafts, they began a crew count; Sgt. Lee W. Best was missing. It was dark and hard to see anything. Climbing onto the upside down rafts, they began calling for Best. They heard a faint voice in the distance and began to move in that direction. They found Best riding, cowboy style, on the tail section, in front of the vertical stabilizer bruised but unhurt. Now they were all together, cold, wet, a long way from base, and a long night ahead…