Guardian Angel -- A True Story
Chapter Twelve
Looking out of my window, I could see we were listing to starboard, resting on the lowered float. I saw men running to the starboard blister accompanied by medical personnel and their ambulances. 
Several crash vehicles moved in to guard against any incipient fires. Both crews continued their cheers of unrestrained joy and celebration. Fatigue was beginning to wash over me as I watched 
the Army crew being taken from the aircraft and put on a boat to be transferred to the hospital for 
observation. I thought of Hemingway again, and his tragic vision of lost causes. Then I smiled, 
knowing that it is not in the nature of things to lose; it is, rather, in the nature of things to stand up to one's ordeal and strive to do one's best. We never did see that Army crew again.


Outside, we were greeted by a huge contingent of jubilant people including our own skipper, several admirals and generals, and what looked like most of our squadron shipmates. We were thanked by the Commanding General of Hickam Field for the return of his crew. All told, it was like being in Times Square on New Year's Eve. Soon, we were hustled off to a thorough debriefing and finally relieved of duty to retire to our quarters. 
It was now close to midnight.


Our repose was short-lived. At 0400 the
next day, the Master-at-Arms awakened us and 
informed us that we were ordered to report aboard 
the submarine USS Grayling (SS-209) at the Pearl Harbor Shipyard in full dress uniform at 0900; no reason given. It wasn't until then that we began to seriously think we might be in trouble considering the risk we had taken attempting the rescue.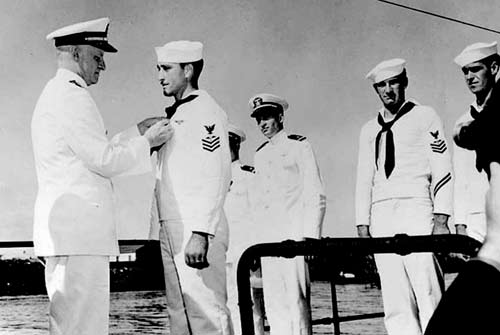 As it turned out, because of the recovery's success, we were being decorated by Admiral Chester W. Nimitz as one of his first official duties as the new wartime Commander-in-Chief of the Pacific Fleet. 
Admiral Nimitz personally pinned the Navy Cross on Fisler and Snuffy. The rest of the crew received 
appropriate recognition, a personal handshake and heartfelt congratulations. I will never forget shaking the admiral's hand and looking into those blue eyes. Then, in true Navy tradition, we were back on the flight line the very next day, doing our jobs to end the war as soon as possible.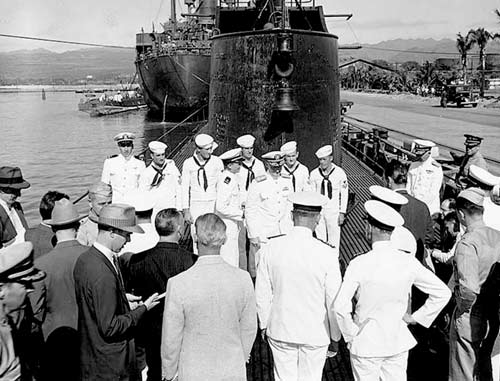 All told, it was quite an experience for me, 
then a 20 year-old sailor. I was later informed that we had appeared on the front page of most 
newspapers, in the theater news and on the radio. 
Thinking back, life itself is about as predictable as a game of roulette. It just so happened that on 30 December 1941, Flight Crew Six of VP-51 placed
a huge bet on double zero, and, as fate would have it, that was the number that came up to create a tremendous payoff for all involved.


This mission, to a large extent, fashioned my future. I went on to win the coveted Navy wings of gold and to complete my naval career of 27 
years by retiring with the rank of commander. 
As a pilot, I was pleased to have been consistently rated an outstanding Naval Aviator. The burning desire to become a highly competent pilot was kindled in me on that fateful day in December 1941, when two Navy pilots demonstrated to this young sailor what kind of talent and courage it 
takes to accomplish the supposedly impossible. I will never forget, nor will I ever quit saluting those two men: Lieutenant Frank M. "Fuzzy" Fisler, 
USNR (killed in action, VP-101, 5 March 1943), 
and Commander Leonard H. "Snuffy" Wagoner, and 
USN. May they both rest in peace.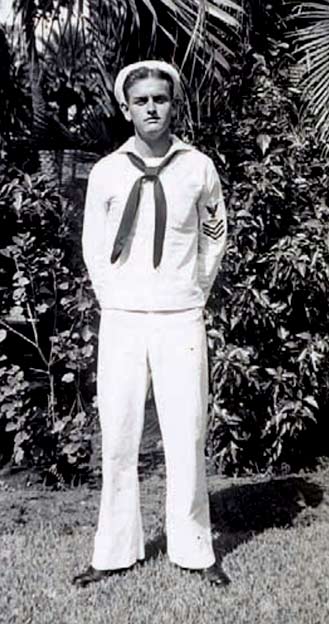 A postscript regarding Admiral Nimitz: During 
2-3 May 1942, I received a second personal commendation from Admiral Nimitz, although it did not quite measure up to the commendation I received after the rescue. I was the first radioman on a PBY, commanded by Lieutenant Commander D. Turner Day, that transported Admiral Nimitz from Pearl Harbor to Midway. We remained overnight and returned to Pearl Harbor the next day. On both legs of the flight I doubled as first radioman and duty cook. After returning to Pearl, Admiral 
Nimitz climbed down the ladder, looked at me, and said, "Son, that sure was good cooking!" So here was another real classy guy!

Click here for bonus material! An epilogue with a special memorial video.

Behind the scenes: How Did They Get There? -- Part Four (Click on this tab)

HOW DID THEY GET THERE?

By Allen L. James

Lieutenant Cooper's exhausted crew was safely brought aboard the PBY. They sipped water and ate what they could. They were exhausted, sunburned and wet. The B-17 crew had, in the previous 23 days, survived the attack on Pearl Harbor and an aircraft ditching that had them lost at sea for four days.